Design Thinking
Nigel Dunnett: From Grey to Green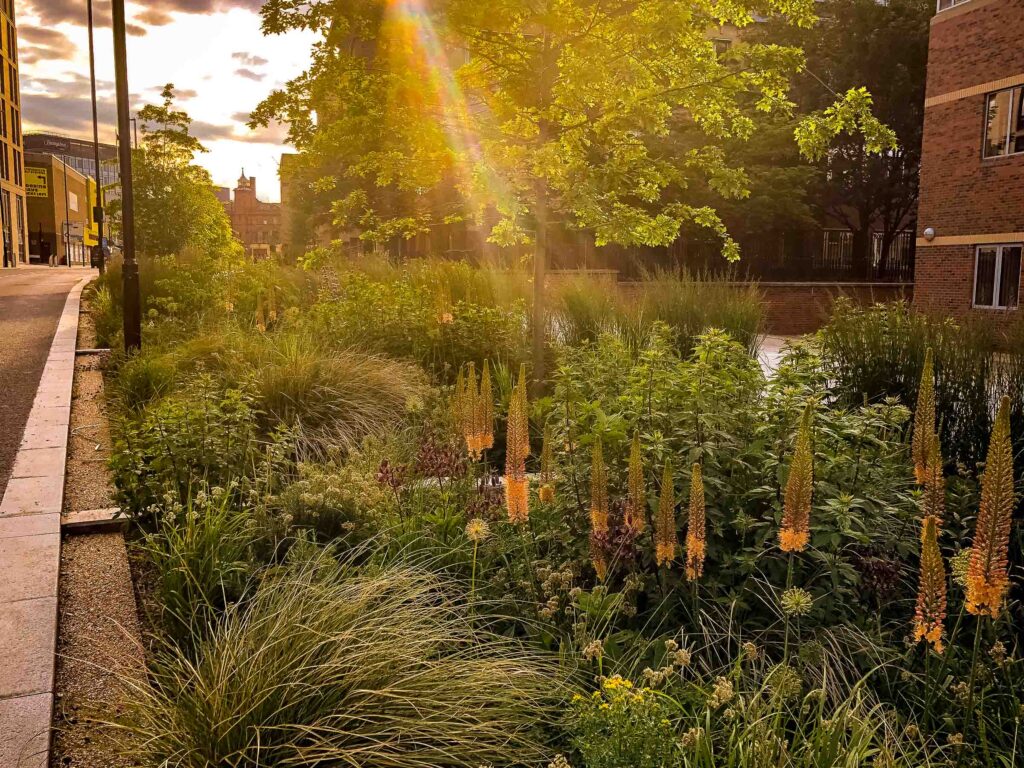 As the world builds a road out of lockdown, we ask one of the world's leading landscape designers for his thoughts on how to bring nature into cities. Dr Anna Rutherford, director of Design West, speaks to Nigel Dunnett, professor of planting design & landscape architecture at the University of Sheffield
Interview by Dr Anna Rutherford. Originally published by Bristol 24/7 in June 2020.
Nigel Dunnett has worked on starry projects including the Barbican and the Olympic Park and is a gold medal winner at the RHS Chelsea Flower Show. But his work is not simply "cosmetic", it is groundbreaking in its approach to climate change, and it's creeping into the heart of our major cities.
How much of our cities are now grey (concrete or paved)?
It's difficult to generalise but typically up to 70 per cent of non-residential areas in cities might be paved at ground level. If you include the roofscapes and take a bird's eye view (which is the one we need to be taking) then that figure will be much higher. In many cases in the downtown or "urban core" most, if not all, of that space will be unrelenting hard surface.
What does this mean for our climate and for life in our cities?
We need to bring back nature, soils and vegetation into our cities on an unprecedented scale, to cool down, dry out, and clean up overheated, flood prone and polluted cities.
Tinkering at the edges won't be enough any longer – we have to work in a transformational way. It's exciting and also challenging – it means that places will look different, they will be used differently, and be maintained differently.
We've been talking about 'paving paradise' since the 1960s. What's new?
We've also been talking about "greening cities" and "nature in cities" for 50 years or more, but it's still not mainstream.
Perhaps one reason is that advocates have generally had an "ecology/environment first" approach. But we need to change this to a "people first" mentality if there is to be any chance of success.
New city greening needs to be beautiful and amazing and wonderful, as well as purely functional "green infrastructure". And of course, it needs to be done in a way that is sustainable.
Tell us about creating the UK's Largest Green Street
It has been wonderful to be involved with creating the Grey to Green scheme in Sheffield – at 1.6km, it's the UK's longest truly "green street", occupying the length of an inner city dual carriageway, reclaiming space for walking , rain gardens and bioswales and effectively reducing four lanes of traffic to two.
It's part of a new flood strategy after this area of the city flooded in 2007, causing major economic damage, but it combats climate change, has reduced pollution and has stimulated growth too.
Grey to Green was a great lesson in multi-disciplinary working, but above all it has shown that it is possible to be visionary and to set very high ambitions for a scheme under normal local authority conditions and constraints.
A very big lesson for me has been that although the scheme delivers on a wide range of environmental benefits, one of the biggest selling points (and there had to be a lot of consultation with local businesses and residents) was that the key benefits would be social and economic – creating a great setting for inward investment.
New city greening needs to be beautiful and amazing and wonderful, as well as purely functional "green infrastructure". And of course, it needs to be done in a way that is sustainable.

Nigel Dunnett, professor of planting design & landscape architecture at the University of Sheffield
What lessons have you learnt, if any, from Covid-19?
The importance of easily accessible outdoor space. Good quality green space and public realm in cities has really risen up the agenda and it's vital that we hold on to that, and make the most of this opening.
The networked way of working has been a bit of a revelation to me and although endless on-line meetings have been quite exhausting, they also seem to often be a lot more inclusive than traditional setups.
Speaking personally, slowing down and having a different rhythm of life has been very valuable.
Is there an appetite for change?
Yes, there is a real appetite for change. But idealism has to be put hand in hand with practicality. I guess this is why research is so important to establish a sense of reliability with what we do, as well as demonstrating all the different benefits that it brings.
It's striking how so many of the best known landscape projects (and architecture projects) are highly sustainable and also very green in terms of high planting content.
What can Bristol do as a city?
Some of the greatest opportunities for city greening lie outside of traditional green spaces and gardens. Highway schemes, commercial developments, car parks, pavements and rooftops all offer huge potential.
It takes a switch in thinking, but developing a green agenda for development can have huge payback and we now know that it isn't more expensive or difficult to deal with than standard "grey" infrastructure.
There is a great opportunity to re-invent the idea of a "garden city" in a way that will pull people back into using high streets and city areas and developing a national and international reputation for doing that.
What does Black Lives Matter mean for the landscape profession?
As with many other realms of life, it has brought important issues to the fore and the landscape profession clearly has a lot of work to do – I see this first hand in terms of student intakes into the profession.
However, people within landscape are generally motivated by very positive desires to make the world better, and on the whole do good things. It's important that we all work for good in whatever way we can, and that is the great thing about being involved in environmental design – you have the chance to make a very real difference.
---
Nigel Dunnett works to promote urban environments that are rich in vegetation and nature and does so by incorporating his unique background in horticulture and ecology into his teaching at the University of Sheffield. Focusing on smaller scale interventions in the form of gardens, urban parks and the greening on and around buildings in high-density built environments, Nigel's work is transforming the way cities are addressing issues caused by climate change, flooding and pollution.
You Might Also Like